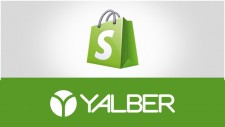 Yalber is happy to announce the launch of an e-commerce based financing solution for Shopify store owners. We created the perfect product for online store owners when in need of funding. Our royalty based investment product is easy and fast!
NEW YORK, April 17, 2018 (Newswire.com) - ​Shopify store owners can now apply and get funded within 48 hours - based on the store sales performance.
Considering the growth and momentum of shopping online, more brick-and-mortar merchants are looking into penetrating the e-commerce online market. E-commerce has been revolutionizing the way people shop-making it cheaper and more convenient. Yalber recognizes that Online merchants may have different focus than a brick and mortar one does; such as having a good website, getting maximum product engagement, web conversion and product sold per order, however they share the same focus as all merchants do- how to obtain proper funding
We created the perfect product for online store owners when in need of funding. Our royalty based investment product is easy and fast!

Amir Landsman, CEO
Online businesses that do not receive proper funding experience a glass ceiling that inhibits their growth. Funding is the fuel on which a business runs. It is impossible to navigate and drive a business to success without effectively allocating proper funding. Effective allocations of resources require planning and liquidity that is easier said than done... Proper business funding is needed to be able to respond to the changing market conditions, such as capitalizing on purchase opportunities when the price is attractive, investing in digital assets created in advance, and constantly improving marketing and sales numbers. Also, maintaining customer loyalty. If a digital business does not have essential finances to cover short-term and long-term expenses, working capital management may be jeopardized- and this is not a good thing! Failure to reach demands because of inadequate funding can cause inventory shortages and marred business relations.
Every business owner has a vision for their company and sometimes that vision can be obstructed by insufficient funding. Yalber understands the important needs of each business owner. They believe securing capital should be simple and easy, that's why their application process is easy to follow and you get a response is less than 24 hours! Banks can take forever, that's why Yalber offers merchant cash advances (MCA). Yalber invests in online businesses that generate revenue from either a product or services. For an exchange of an up front-investment, Yalber receives a royalty or percentage of your business's future receivables. Unlike other sources of investment, Yalber does not receive royalties from a business's sale for the life of the business. Instead, the royalty Yalber receives is limited to a specific amount agreed based on their risk team business analysis. This analysis is determined to benefit the success and growth of the online business. Once the return on investment is met, royalty rights are then returned back to the business.
Source: Yalber
Share: