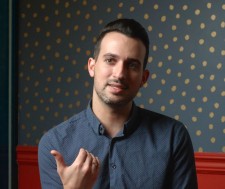 Kobi Ben Meir, Yarber's Marketing Director earned his first nomination for the brand in 2019
NEW YORK, March 5, 2019 (Newswire.com) - Kobi Ben Meir, Yalber's Marketing director, earned his first nomination this year. He is nominated for the Marketer of the Year award in the Drum Marketing Awards USA.
Previously, Yalber's marketing director secured two other nominations in the same category late 2018. Kobi also joined Forbes.com council community and publishes articles to Forbes readers. The award ceremony will take place on April 11 in NYC.
Yalber offers the easiest most effective way for small business owners to secure working capital with the brand's unique Royalty Based Investment product. The growing popularity contributes to the recognition of the brand, and it's leaders receive in the past few years as it grows rapidly.
Forbes.com: "Things To Consider Before Seeking Small Business Financing" was published recently by the brand's marketing director to provide small business owners with insight into financing options.
The Drum Marketing Awards
The Drum Marketing Awards is on a mission to recognize the best in the business - and then make sure their peers, clients and potential recruits know all about them. The Drum is one of the world's largest marketing platforms which, with bases in New York, London, and Singapore - attracts a global audience of 1m unique viewers a month. It counts the likes of Sheryl Sandberg, Maurice Levy, and Martin Sorrell amongst its guest editors and contributors.
About Yalber
Since 2007 Yalber has revolutionized the way businesses throughout the world get proper funding. Yalber was started with one vision- to help business owners succeed and conquer. Yalber's mission is to provide small businesses access to fast, unsecured working capital. By recognizing the need, the goal is to provide small business owners with access to funds, allowing them to improve not only their own business but also their communities. We believe that a long-term, personal relationship is a key factor in any business' success. Yalber's unique approach to create brand exposure and reach more small business owner is key to the overall success. Our marketing team is always looking for creative ways to bring our core values to potential customers. The personal sales approach and the fast approval process is attractive to business owners who are looking to get real feedback and talk to agents who care. We don't have a script in place- each business is unique. Just like Yalber.
Find Yalber Online: www.Yalber.com
Source: Yalber
Share: