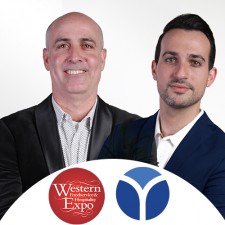 The SMB FinTech funder will take part in the Western Foodservice & Hospitality Expo Education Program, focusing on how to acquire small business financing.
LOS ANGELES, August 7, 2019 (Newswire.com) - ​The Western Foodservice & Hospitality Expo Education Program provides the gold-standard, industry-leading educational content that is practical and relevant for today's foodservice professional. Industry leaders deliver real, applicable business lessons, the latest information on trends and best practices in the market, and their own opinions of what creates success with the opportunity to obtain continuing education credits endorsed by the American Culinary Federation through the three-day education program. The Expo takes place at the Los Angeles Convention Center August 25-27.
This year Yalber, the FinTech royalty-based investments provider, will take part in the program. The team to represent the brand will be the CEO, Amir Landsman, and the Marketing Director, Kobi Ben Meir. This is the third year Yalber will be collaborating with the Western Foodservice & Hospitality Expo.
The program will focus on How to Secure Small Business Financing. It will explore the different options available for SMB owners, the pros and cons and a general overview of the service Yalber offers. Yalber will also be presenting during the entire Expo in booth 753.
Participants will also receive a special Royalty Based Investment offer customized for their needs. For more information on the presentation and how to participate, click here.
How to Secure Small Business Financing
Room: Education Station - 833
Session Number: T110
Tuesday, August 27, 2019: 2:00 p.m. - 2:45 p.m.
The session is based on the Forbes.com article "Things To Consider Before Seeking Small Business Financing"
About Yalber
Since 2007, Yalber has revolutionized the way businesses throughout the world get proper funding. Yalber was started with one vision -- to help business owners succeed and conquer. Yalber's mission is to provide small businesses access to fast, unsecured working capital. By recognizing the need, the goal is to provide small business owners with accessibility to funds, allowing them to improve not only their own business but also their communities. We believe that a long-term, personal relationship is a key factor in any business' success. Yalber's unique approach to create brand exposure and reach more small business owner is key to overall success. Our marketing team is always looking for creative ways to bring our core values to potential customers. The personal sales approach and the fast approval process is attractive to business owners who are looking to get real feedback and talk to agents who care. We don't have a script in place -- each business is unique. Just like Yalber.
Source: Yalber
Share: