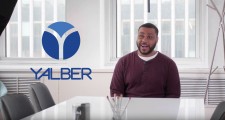 The FinTech SMB funder based in New York City announced its latest campaign to promote Royalty Based Investments
NEW YORK, April 19, 2019 (Newswire.com) - Yalber announced a new campaign under the title "Shorts." The campaign initiative is to show a different angle of how the company's product can help small business owners with everyday problems they face while taking a more humorous tone. The campaign launched under the title "Shorts" and will be released in a series of three short videos - each presenting a different situation a small business owner may face. The campaign was created and produced with help from the small businesses that took part in the production.
The first video to be released is called "Water issues? Fix it." and shows one of their customers recording a testimonial ending with their common phrase "When you need funds, We'll be there."
The Fintech funder recently announced a new $20 million credit facility to support its growth and announced being awarded IAC best financial services online campaign for its "royalty based investment."
Yalber offers a product called Royalty Based Investment allowing small business owners easy access to funding. Yalber is considered one of the best in its category based on customers reviews.
Production and creative:
NLYH Yalber
​Madler Media
About Yalber
Founded in 2007 and headquartered in New York City, with strategic offices in Dallas, Los Angeles and San Francisco, Yalber is a technology-enabled specialty lender, leveraging proprietary origination, disciplined underwriting and performance analytics to improve the speed, cost and choice of capital available to small and mid-sized businesses throughout the U.S. Yalber has recently closed a $20 million facility to support its growth. ​
​Contact:
Marketing Department
​marketing@yalber.com
Source: Yalber
Share: